It's Women's History Month, and across the country, we're paying homage to the many women who have transformed our country, and our communities, for the better.  
At DC Central Kitchen, we want to recognize a few women from our history – just a few among the many phenomenal women who have propelled us forward. 
_________________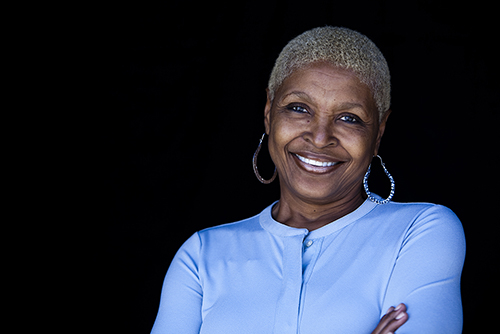 Marianne Ali
Former Culinary Job Training Director at DC Central Kitchen
Marianne Ali, our longtime Culinary Job Training Director once said: "We can always do more than we think we can, if we push ourselves."  
For nearly 20 years, Marianne pushed our mission forward further than we ever thought possible back when DC Central Kitchen was first founded. Her pioneering leadership of our Culinary Job Training program transformed the lives of over 1,500 men and women with histories of homelessness, incarceration, addiction, and chronic unemployment. 
Marianne arrived at DC Central Kitchen in 1997 after overcoming two decades of addiction. A graduate of L'Academie D'Cuisine in Maryland, she had the culinary know-how to join our catering arm, but she was quickly drawn to the tough love and transformations happening in our culinary classroom. 
Marianne joined the Culinary Job Training team as an instructor and took on leadership of the program shortly thereafter. She quickly became DC Central Kitchen's "North Star," speaking out on issues of equity and fairness, and standing up for those with the highest barriers. In 2008, she identified returning citizens as the population most in need of our employment services and committed all the resources at her command to "kicking the stigma" of previous incarceration. She ultimately built a model program that reduces recidivism by 90% versus the national average and saves taxpayers $2 million in incarceration costs each year. 
In 2014, the White House under President Obama named Marianne a Champion of Change for her work with men and women coming home from prison, and in 2017, DC Council issued a ceremonial proclamation honoring her 2 decades of service at DC Central Kitchen. 
This August, Marianne's several-year-long fight against cancer came to an end with her passing, leaving behind her legacy of compassion, empowerment, and respect.  Marianne's influence reaches every corner of the Kitchen, and pushes us all to continue to do more. 
Dorothy Bell
Cook at DC Central Kitchen, and 1995 Culinary Job Training graduate  
Among the many graduates that have come through our doors, we have graduated "only one true legend," says our Chief Development Officer, Alex Moore – and that is Ms. Dorothy Bell. 
Ms. Bell came to DC Central Kitchen in 1995 after her struggle with addiction drove her to rock bottom. Her strong work ethic as a student in our training program immediately stood out, and upon graduation, she was hired as the first graduate to join our team full-time.  
Starting with our contract foods and catering arm, Ms. Bell quickly made her mark at the Kitchen, eventually finding her sweet spot working with volunteers on our community meals. For 15 years, Bell kept over a hundred thousand volunteers on their toes, holding everyone to the highest kitchen standards – sitting U.S. Presidents, foreign dignitaries, and DC big wigs included.  
Ms. Bell has had such an impact at DC Central Kitchen that we named an award after her. Each quarter we recognize a colleague who reflects Ms. Bell's dedication. She continues to work at our social enterprise hub preparing nutritious school meals, and in her 23rd year at DC Central Kitchen, is a living embodiment of our commitment to excellence, grit, and hard work.  
Glenda Cognevich
Chief Financial Officer at DC Central Kitchen 
To quote our founder, Robert Egger, if we were to name one of the five best things that ever happened to DC Central Kitchen, "Glenda Cognevich is absolutely on that list." 
Glenda joined DC Central Kitchen by what she refers to as "sheer coincidence" (but we may call it fate). She already had nearly a decade of experience in hospitality management, and she had carved out a second career in international development after serving with the Peace Corps. 
But everything changed in 2006. Hurricane Katrina struck Glenda's beloved hometown of New Orleans, and she was compelled to turn her eyes stateside. There was so much work to be done here in our local community, and she wanted in on the work.  
Glenda joined DC Central Kitchen and immediately dug in to shape up our financial systems and pave the way for DC Central Kitchen's future growth. When the 2008 recession hit, and many nonprofits were forced to slash budgets, cut services, or even shut their doors entirely, Glenda's keen financial wisdom allowed us to not only make payroll every week, but to take one new opportunities and expand our reach in the community. During her tenure, we've created nearly 150 living wage jobs here in DC, all with comprehensive health and retirement benefits, while adding nearly $9 million in annual social enterprise revenue and earning top marks for financial stewardship and transparency from the experts at Charity Navigator and Guidestar. 
Since she joined our team, Glenda has continued to push DC Central Kitchen forward, directing and managing the funds to get the most community change for our (and your) buck. 
_________________
To each of these women, and to the countless others who have graduated from, worked with, or volunteered at DC Central Kitchen – our work wouldn't be possible without you.  
And to all the women, the movers and shakers pressing against the grain to make positive change in our community – we thank you.